Good morning, great citizens of Sidepodcast, it is Tuesday once again.
There are tumbleweeds rolling down the roads that are usually filled with the noise of F1 cars; for some reason it was felt that the notoriously workaholic staff of Formula 1 teams deserve a life outside of the paddock and factories, and that would be best served by a mid-season break. Given that it means I have to wait four weeks until Spa, I'm not convinced.
Still, there are a few dribbles of F1 news coming out of the Hungarian GP. Nick Heidfeld believes that Renault are 'in trouble' if their planned update for Spa doesn't have the desired effect. In more trouble than seeing your engine explode, Nick?
Mark Gallagher, General Manager of Cosworth's F1 division, has presumably been inhaling some of the noxious fumes that Heidfeld's was spewing out in Budapest. He 'remains convinced' that it has the potential to win races in 'the right car'. Williams might disagree with such a statement.
Searching for other sports to fill the F1 sized hole in my life, it seems that England are being thoroughly good at cricket. Not that long ago that was as likely as England being thoroughly good at football, but they're now just one win or two draws away from reaching the top of the ICC Test Rankings.
I see you falling asleep at the back.
In slightly political news (forgive me) alleged LulzSec hacker Jake Davis has been released on bail after being charged with five offences at the City of Westminster magistrates' court. Presumably Davis' defence will be, "I live on Shetland, there is literally nothing else to do."
If you'll permit me to indulge in a moment of news from last week, the National Museum of Scotland re-opened on Friday after a £47M refit that saw it closed for three years. I was childishly excited (particularly about the animatronic T-Rex in the opening ceremony) and with twenty-two thousand visitors through its (new) doors on opening day, it seems I wasn't the only one.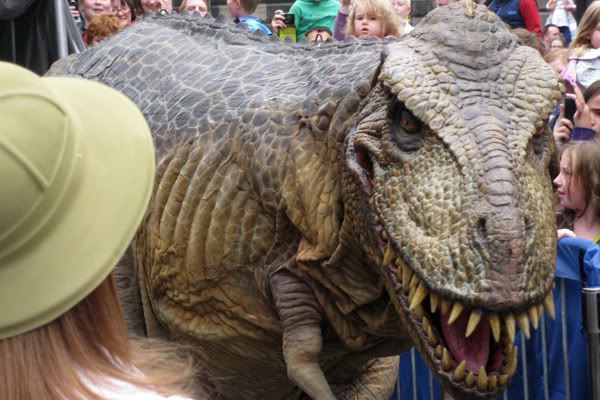 And with that I shall take my leave and see you for my next Daily post in a month. There are reasons for the elongated absence, and they involve shameless self promotion, so here we go. If anyone is in Edinburgh for the festival, you should head down to St Ninians Hall on Comely Bank Road to see Edinburgh Theatre Arts' production of Moll Flanders. It runs from 8th - 20th August and I'm running the lighting and sound.
Have a good day, and I'll see you in the comments.
321 responses
Lukeh01/08/2011 at 23:05

There is a dinosaur in the daily!! *runs*

We definitely need more dinosaur dailies. Nice stuff Simon :) dinosaurs are awesome. Especially the ones who pretend to be animatromics but are really dinosaurs.

Plus I like how T rex's have little arms :D

Simon Furnivall01/08/2011 at 23:11

Cheers, Lukeh :) I love dinosaurs. It was a close run thing as to whether I was more excited about the T-Rex or the museum re-opening. Neither disappointed.

Now for the shameless self promotion I mentioned. If anyone is in Edinburgh for the festival, you should head down to St Ninians Hall on Comely Bank Road to see Edinburgh Theatre Arts' production of Moll Flanders. It runs from 8th - 20th August and I'm running the lighting and sound.

I now return you to your regularly scheduled comments.

Mr C01/08/2011 at 23:12

Now for the shameless self promotion I mentioned. If anyone is in Edinburgh for the festival, you should head down to St Ninians Hall on Comely Bank Road to see Edinburgh Theatre Arts' production of Moll Flanders. It runs from 8th - 20th August and I'm running the lighting and sound.

oooh, we need to know more. what does that involve?

Steven Roy01/08/2011 at 23:12

Simon

You should have put the plug in the post. More people will read that

Mr C01/08/2011 at 23:12

You should have put the plug in the post. More people will read that

it's not too late, do it.

Lukeh01/08/2011 at 23:12

Cheers, Lukeh :) I love dinosaurs. It was a close run thing as to whether I was more excited about the T-Rex or the museum re-opening. Neither disappointed.

Awesome stuff. I do love seeing dinosaur stuff at museums, from trilobites to skeletons to animatronics to poor ripoffs of the font from Jurassic Park.

Now for the shameless self promotion I mentioned. If anyone is in Edinburgh for the festival, you should head down to St Ninians Hall on Comely Bank Road to see Edinburgh Theatre Arts' production of Moll Flanders. It runs from 8th - 20th August and I'm running the lighting and sound.

Oooh good luck with it Simon!

Simon Furnivall01/08/2011 at 23:21

it's not too late, do it.

Done. Wasn't sure of the self-promotion etiquette, so kept it out of the post initially.

oooh, we need to know more. what does that involve?

It means I will be swearing a lot as the actors fail to hit their marks. More specifically, I'll be in charge of the lighting during the play, ensuring that the right lights are on at the right time and that the sound effects and songs are played in the right place. Given that I have only one technical rehearsal and then the dress rehearsal to get the lighting right, it'd be safe to say I'm a little nervous.

Steven Roy01/08/2011 at 23:24

Done. Wasn't sure of the self-promotion etiquette, so kept it out of the post initially.

The sidepodcast way is plug, plug and plug again.

Mr C01/08/2011 at 23:25

Done. Wasn't sure of the self-promotion etiquette, so kept it out of the post initially.

appreciated, but that's cool by us.

Given that I have only one technical rehearsal and then the dress rehearsal to get the lighting right, it'd be safe to say I'm a little nervous.

love it! haven't done that kind of thing for years and years. how are you handling follow spots, or is it all fixed?

Mr C01/08/2011 at 23:25

The sidepodcast way is plug, plug and plug again.

have i mentioned christine's book?

http://itunes.apple.com/gb/book/thatll-be-day-365-f1-stories/id445977879

Steven Roy01/08/2011 at 23:26

have i mentioned christine's book?

:D

Simon Furnivall01/08/2011 at 23:31

love it! haven't done that kind of thing for years and years. how are you handling follow spots, or is it all fixed?

All fixed, thankfully. I haven't done lighting for a few years, and last time I did I was on the follow spot; I swore then never again to have to work with one. We have a lot of cues though, all the cast are on stage for the entire play, so keeping those not in a particular scene in as much shadow as possible whilst still lighting the scene adequately is going to be a challenge to get right.

Mr C01/08/2011 at 23:34

All fixed, thankfully. I haven't done lighting for a few years, and last time I did I was on the follow spot; I swore then never again to have to work with one. We have a lot of cues though, all the cast are on stage for the entire play, so keeping those not in a particular scene in as much shadow as possible whilst still lighting the scene adequately is going to be a challenge to get right.

blimey, best of luck!

Jordan F101/08/2011 at 23:40

Holy smokes! Simon has found a picutre of something older than Bernie! Impossible!

Sidepodcast Update01/08/2011 at 23:45

Mr C01/08/2011 at 23:52

Holy smokes! Simon has found a picutre of something older than Bernie! Impossible!

:)

Simon Furnivall01/08/2011 at 23:56

Holy smokes! Simon has found a picutre of something older than Bernie! Impossible!

It's true. Saw it with me own peepers.

Kai02/08/2011 at 00:33

Oh, I am really liking these Moo designs. I have a really good feeling about finding some business cards here.

Mr C02/08/2011 at 01:34

Oh, I am really liking these Moo designs. I have a really good feeling about finding some business cards here.

can't recommend highly enough.

Kai02/08/2011 at 01:37

can't recommend highly enough.

I've narrowed it down to a few designs that I like best, but can I talk with them about specifics? Did you do that/

Kai02/08/2011 at 01:37

I've narrowed it down to a few designs that I like best, but can I talk with them about specifics? Did you do that/

? not /

Mr C02/08/2011 at 01:38

I've narrowed it down to a few designs that I like best, but can I talk with them about specifics? Did you do that/

ahh, no. downloaded the template and designed in photoshop.

Kai02/08/2011 at 01:39

ahh, no. downloaded the template and designed in photoshop.

More tech skills I don't have. :)

Mr C02/08/2011 at 01:40

More tech skills I don't have. :)

i'm no lukeh :)

you should be able to contact someone, they seem friendly enough.

Kai02/08/2011 at 01:43

you should be able to contact someone, they seem friendly enough.

I agree, they seem very willing to help.

Oh, and I talked to an immigration lawyer and it seems that now I'm not able to move there and be self-employed like I'd planned, and the job shortage areas are in things like geology, soil analysis and other occupations that I'm not qualified in. So... erm.....looks like it's not going to happen in the way that I hoped.

Mr C02/08/2011 at 01:44

Oh, and I talked to an immigration lawyer and it seems that now I'm not able to move there and be self-employed like I'd planned, and the job shortage areas are in things like geology, soil analysis and other occupations that I'm not qualified in. So... erm.....looks like it's not going to happen in the way that I hoped.

ooh bugger. marriage it is then.

Kai02/08/2011 at 01:47

ooh bugger. marriage it is then.

Looks like that's the only way, 'cause they won't do an ancestry visa for me anymore (grandfather born in Hounslow), those visas are only for Commonwealth country citizens. Gotta find me a UK husband, or move to the seaside here.

Kai02/08/2011 at 01:52

or move to the seaside here.

and visit a few times a year, making a total nuisance of myself. :)

Mr C02/08/2011 at 01:53

and visit a few times a year, making a total nuisance of myself. :)

yay!

Kai02/08/2011 at 01:56

yay!

hehe

You say that now. :)

Jamey Price02/08/2011 at 03:31

Mr. C, I really don't care what you think about me or my work. But if you're going to talk poorly about me, you might as well spell my name correctly.

Thanks for the plug Lou. You're welcome. Not difficult to work with wordpress.org. Hardest part is installing it on the server, which many will do for you...

and for the record, I vote loujohnsonphoto.com

Sidepodcast Update02/08/2011 at 05:45

Leigh O'Gorman02/08/2011 at 09:01

Marti02/08/2011 at 09:04

Leigh O'Gorman02/08/2011 at 09:05

Hi Marti

How are you this morning? I just cycled in to work for the first time (about 20km) - got hopelessly lost, but eventually found it.

:D

Marti02/08/2011 at 09:07

How are you this morning? I just cycled in to work for the first time (about 20km) - got hopelessly lost, but eventually found it.

Fine, thanks! Sitting in front of the television with my netbook hehe.

Wow, that's a long ride! Congratulations! At least you found it, because if not I imagine you on the phone "Hey, yes. I am 40 km far away from the office with my bike..." :P

Leigh O'Gorman02/08/2011 at 09:08

Wow, that's a long ride! Congratulations! At least you found it, because if not I imagine you on the phone "Hey, yes. I am 40 km far away from the office with my bike..." :P

:D

Lynch02/08/2011 at 09:37

job shortage areas are in things like geology

.. not for a recent graduate its not! its all "principle geologists" and "10 years experience required" etc.... hmm...

RubberGoat02/08/2011 at 10:32

.. not for a recent graduate its not! its all "principle geologists" and "10 years experience required" etc.... hmm...

Look into the oil industry if you're having trouble finding work.

Sidepodcast Update02/08/2011 at 11:45

Mr C02/08/2011 at 11:51

team awesome reunited!

http://twitpic.com/5zsmx6

Leigh O'Gorman02/08/2011 at 11:51

team awesome reunited!

http://twitpic.com/5zsmx6

:D

Marti02/08/2011 at 12:00

team awesome reunited!

I see some test drivers over there too... :)

Eric the baker02/08/2011 at 12:35

I'm leaving for a week's vacation late tonight.

I'll have plenty of time to read, so in addition to 365 Days of F1 vol 1 & 2, I'm picking up a Kindle copies of 2 Steve Matchett books.

http://www.amazon.com/The-Mechanics-Tale-ebook/dp/B004GKLN8I

http://www.amazon.com/Chariot-Makers-Assembling-Perfect-ebook/dp/B00550NY9E

I'm assuming there might be a opening for a book review posting for them when I get back?

Leigh O'Gorman02/08/2011 at 12:37

Oh dear

http://www.bbc.co.uk/news/world-14371931

Marti02/08/2011 at 12:42

What does 'alienated' mean?

Leigh O'Gorman02/08/2011 at 12:44

What does 'alienated' mean?

I suppose the best way to describe is "forcefully left out, hostile or isolated"

Marti02/08/2011 at 12:47

I suppose the best way to describe is "forcefully left out, hostile or isolated"

:( It's sad to read this kind of news, but money seems to be more important than human race.

RubberGoat02/08/2011 at 12:49

What does 'alienated' mean?

It means "F1 gets a bit more greedy"

Marti02/08/2011 at 12:52

It means "F1 gets a bit more greedy"

But I guess that F1 doesn't have nothing to do with this case. Maybe the owners of the track? Anyway, people shouldn't have to leave their homes just because of a racing track.

Nick (@Twiger)02/08/2011 at 12:52

It means "F1 gets a bit more greedy"

Its nothing new, it happens a lot there, its just getting headlines because its F1 rather than an appartment complex this time. Which may not be a bad thing.

Similar things happen everywhere there is economic development, its not pretty but neither was the industrial revolution.

Nick (@Twiger)02/08/2011 at 13:04

After that race last weekend, we should petion the Hungarian government to stop them doing anything to that track!

http://www.autosport.com/news/report.php/id/93607

Journeyer02/08/2011 at 13:12

After that race last weekend, we should petition the Hungarian government to stop them doing anything to that track!

We should actually just petition the heavens for rain. :D

RubberGoat02/08/2011 at 13:16

After that race last weekend, we should petion the Hungarian government to stop them doing anything to that track!

I know what you mean. All of that character lost!

RubberGoat02/08/2011 at 13:17

But I guess that F1 doesn't have nothing to do with this case. Maybe the owners of the track? Anyway, people shouldn't have to leave their homes just because of a racing track.

Maybe not, but I'm sure the sport turned a blind eye to ie?

Its nothing new, it happens a lot there, its just getting headlines because its F1 rather than an appartment complex this time. Which may not be a bad thing.

Agreed.

Similar things happen everywhere there is economic development, its not pretty but neither was the industrial revolution.

We don't have to repeat the same mistakes though?

Marti02/08/2011 at 13:31

The Battle of Blogs. http://www.longlife.co.uk/blog/index.php/2011/08/whats-your-favourite-motorsport-blog-competition/

Pat is participating, as well as Joe... I'll think who should I give my vote to, but I think I'll choose the Too Much Racing blog.

Nick (@Twiger)02/08/2011 at 13:32

Pat is participating, as well as Joe... I'll think who should I give my vote to, but I think I'll choose the Too Much Racing blog.

You can vote for 3 :)

Marti02/08/2011 at 13:32

You can vote for 3 :)

Oh! Then I don't have to worry ^^

Amy02/08/2011 at 13:33

Rafa has joined twitter

http://twitter.com/#!/RafaelNadal

Tennis fangirls appear to be imploding.

RubberGoat02/08/2011 at 13:34

Pat is participating, as well as Joe... I'll think who should I give my vote to, but I think I'll choose the Too Much Racing blog.

Well done to those who got nominated!

RubberGoat02/08/2011 at 13:35

Rafa has joined twitter

For realz?

Amy02/08/2011 at 13:36

For realz?

for realz, he plugged it on his facebook page.

Amy02/08/2011 at 13:37

I think I might try win this competition too.

Any entry instructions that starts with 'buy chocolate' is good in my books.

lou02/08/2011 at 13:39

Rafa has joined twitter

yaaay!

Marti02/08/2011 at 13:41

Rafa has joined twitter

Not the smartest guy in the world, but excellent tennis player :) Anyway, I think I won't follow him. My TL is 100% motorsport ^^

RubberGoat02/08/2011 at 13:42

Leigh, nice poem! http://bit.ly/nBhPUN

Leigh O'Gorman02/08/2011 at 13:45

Leigh, nice poem! http://bit.ly/nBhPUN

Sweet - didn't realise it was a poem, but something that came to my head when I saw the state of some mechanics before 3am

:)

RubberGoat02/08/2011 at 13:46

Sweet - didn't realise it was a poem, but something that came to my head when I saw the state of some mechanics before 3am

I don't know if it's one either but I liked it anyway ;)

Leigh O'Gorman02/08/2011 at 13:46

I don't know if it's one either but I liked it anyway ;)

Thank you very much young sir

Leigh O'Gorman02/08/2011 at 14:00

Cue shock (ahem...), but Danica Patrick is (apparently) in the final stages of nailing a NASCAR contract with JR Motorsports.

I'm sure sections of IndyCar will weep, while others will shudder with fear.

Mr C02/08/2011 at 14:57

The Battle of Blogs. www.longlife.co.u…blog-competition/

Pat is participating, as well as Joe... I'll think who should I give my vote to, but I think I'll choose the Too Much Racing blog.

that pesky adam cooper's passed us :)

Journeyer02/08/2011 at 15:00

that pesky adam cooper's passed us :)

:D He's in range to pass Joe AND badger for 3rd.

Marti02/08/2011 at 15:01

that pesky adam cooper's passed us :)

Adam Cooper is a genious! I've wrote many news thanks to him hehehe (always saying who had the exclusive)

I once saw Jonathan Noble, from Autosport. I think I've never seen Joe and Adam.

Mr C02/08/2011 at 15:04

Adam Cooper is a genious!

he is a genius, he's convinced his followers that they can win a prize: https://twitter.com/#!/adamcooperf1/status/98384058635141120

surely, not correct?

Journeyer02/08/2011 at 15:07

surely, not correct?

Not totally accurate, but not totally off the mark, either. If Adam wins, he can choose to give it away to any of his readers through a competition of his own. T&Cs mention that explicitly.

Marti02/08/2011 at 15:07

surely, not correct?

Yes, I think he is one of the best-placed bloggers. I see Joe has 10 votes more than him, but ScrabsF1's advantatge is huuuge.

Christine02/08/2011 at 16:13

Don't forget, it's Christine's Rankings day today, all suggestions gratefully received.

Leigh O'Gorman02/08/2011 at 16:14

Don't forget, it's Christine's Rankings day today, all suggestions gratefully received.

Still haven't seen any of the GP weekend or any of the aftermath, so I can't comment yet

:/

Steven Roy02/08/2011 at 16:16

Don't forget, it's Christine's Rankings day today, all suggestions gratefully received.

Timo's puppy needs points

Paul di Resta and Lewis Hamilton being nice to each other after the race rather than having temper tantrums

lou02/08/2011 at 16:26

Don't forget, it's Christine's Rankings day today, all suggestions gratefully received.

ohhh.. ohhh

Mclaren for giving Jenson those amazing biscuits and such a cute little celebration.

Jenson and Lewis for the pitstop challenge fun, Lewis for saying sorry to Di Resta.. Jenson for being lovely.

Nico for playing football with the rubens family (i think?)

:)

Steven Roy02/08/2011 at 16:28

Mclaren for giving Jenson those amazing biscuits and such a cute little celebration.

Also lots of points for McLaren for letting Lewis and Jenson race. I know what happens on track normally doesn't get points but this deserves lots.

rg in italy02/08/2011 at 16:48

Don't forget, it's Christine's Rankings day today, all suggestions gratefully received.

Kobi for making his own food pre-race. It's on the sauber twitter account.

James02/08/2011 at 16:51

Don't forget, it's Christine's Rankings day today, all suggestions gratefully received.

Alonso vs Candles? http://www.youtube.com/watch?v=K4IAVW_kHiI&feature=player_embedded

he does win eventually. :)

Steven Roy02/08/2011 at 16:51

Something to look out for in future. Does Jenson have a lucky charm?

http://twitter.com/willbuxton/status/97712789874941952

Steven Roy02/08/2011 at 16:53

Sidepodcast Classics02/08/2011 at 17:00

Enjoy a little something from the sidepodcast.com back catalogue.

Originally published 19/10/2008

Christine02/08/2011 at 17:27

Mini ping: http://mrschristine.com/2011/08/02/shall-i-compare-thee-to-a-summers-day/

Sidepodcast Update02/08/2011 at 17:45

Pat W02/08/2011 at 18:21

The Battle of Blogs. www.longlife.co.u…blog-competition/

Pat is participating, as well as Joe... I'll think who should I give my vote to, but I think I'll choose the Too Much Racing blog.

Thanks! I voted for SPC, Joe S and Dank. :)

Also, I am not here.

I had to open my game without results because I've got family visiting all week, will hopefully update it tonight. http://toomuchracing.com/2011/08/02/tmr-game-2011-week-28/

Got to go again..

Christine02/08/2011 at 18:30

Ping: http://sidepodcast.com/post/an-all-positive-week-on-christines-rankings-this-week

Bassano02/08/2011 at 18:38

Steven Roy02/08/2011 at 18:45

Hi Bassano.

How is life on the wagon?

Lukeh02/08/2011 at 18:45

Evening all

Evening sir :)

Steven Roy02/08/2011 at 18:46

Lukeh's headping is very finely tuned

Christine02/08/2011 at 18:47

Ping: http://sidepodcast.com/post/longevity-is-celebrated-with-points-on-this-weeks-team-rankings

Lukeh02/08/2011 at 18:48

Lukeh's headping is very finely tuned

Just as I sat back down and everything, glad to see the batteries still work :)

Bassano02/08/2011 at 18:49

How is life on the wagon?

It's tough. I'm weening myself off slowly by listening to all the F1 podcasts but I think by Thursday, I'll be dry

Steven Roy02/08/2011 at 18:56

It's tough. I'm weening myself off slowly by listening to all the F1 podcasts but I think by Thursday, I'll be dry

So you are on the F1 wagon but listening to F1 podcasts? Not exactly cold turkey. More cold Hungaroring

Bassano02/08/2011 at 19:02

So you are on the F1 wagon but listening to F1 podcasts? Not exactly cold turkey. More cold Hungaroring

Yes, I wonder if I should treat myself to Belgian Waffles when the time is right. Or maybe mayonnaise with chips

Marti02/08/2011 at 19:09

Bassano02/08/2011 at 19:15

Lukeh02/08/2011 at 19:23

Hehehehe, I love this comic. :D

You know it would absolutely happen too.

Christine02/08/2011 at 19:26

Steven Roy02/08/2011 at 19:27

You know it would absolutely happen too.

It always works

Bassano02/08/2011 at 19:33

Ever wished your iPhone or iPad looked a classic gameboy?

Me neither but you can: http://lootiful.com/

Marti02/08/2011 at 19:34

Ever wished your iPhone or iPad looked a classic gameboy?

I wish I had an iPhone or an iPad.

Lukeh02/08/2011 at 19:36

I wish I had an iPhone or an iPad.

I wish I still had a Game Boy :D

Marti02/08/2011 at 19:37

I wish I still had a Game Boy :D

I found mine this week! :D

It was like a 'Back to the Past' moment. The Game Boy, its game and its bag :')

Marti02/08/2011 at 19:38

Well, time to leave.

Good night :)

Lukeh02/08/2011 at 19:38

Nick02/08/2011 at 19:43

Off to the airport! Flying back to the uk tonight!

Bassano02/08/2011 at 19:51

Mr C/Christine: When the F1 Minute app is ready for Android, think twice about accepting an offer for Amazon's app of the day promotion

http://daringfireball.net/linked/2011/08/02/amazon-appstore

Bassano02/08/2011 at 19:51

Off to the airport! Flying back to the uk tonight!

Weekend meet-up?

Bassano02/08/2011 at 19:52

Mr C/Christine: When the F1 Minute app is ready for Android, think twice about accepting an offer for Amazon's app of the day promotion

Ah, I've just seen that you tweeted it this morning. Sucky deal though

Mr C02/08/2011 at 20:05

Ah, I've just seen that you tweeted it this morning. Sucky deal though

not sure the amazon app store is available in the uk anyhow. they do the same for kindle books though, discount at will and the author has to live with it.

Alison02/08/2011 at 20:28

not sure the amazon app store is available in the uk anyhow. they do the same for kindle books though, discount at will and the author has to live with it.

Some books seem to have a set price though too. Next to some it says "this price has been set by the publisher"

Alison02/08/2011 at 20:29

Weekend meet-up?

We're in Hampshire for a wedding Sat night.

Mr C02/08/2011 at 20:30

Some books seem to have a set price though too. Next to some it says "this price has been set by the publisher"

kindle books?

Alison02/08/2011 at 20:31

kindle books?

Yup, I'll find you an example. It's flipping annoying if you want them because they're majorly expensive!!

Alison02/08/2011 at 20:32

Yup, I'll find you an example.

http://www.amazon.co.uk/The-Fry-Chronicles-ebook/dp/B0042JTA56/ref=pd_sim_kinc_3

Alison02/08/2011 at 20:33

We're in Hampshire for a wedding Sat night.

Some time before Fri the week after though is a definite possibility?

Bassano02/08/2011 at 20:33

We're in Hampshire for a wedding Sat night.

Friday?

Bassano02/08/2011 at 20:33

Friday?

Scratch that, just realised Fri no good.

Sun afternoon?

Alison02/08/2011 at 20:34

Friday?

This Friday? Nopers. I'm working the morning and driving to London in the evening. Unless you want to see Nick and his dad? :D

Bassano02/08/2011 at 20:35

Some time before Fri the week after though is a definite possibility?

A school night? No can do, the office is runni g light this month and I can't take any time off

Alison02/08/2011 at 20:36

A school night? No can do, the office is runni g light this month and I can't take any time off

Okayyy will have a think about Sunday. Nick's dad is still over then so will have to see if he wants to do anything first I guess.

Mr C02/08/2011 at 20:36

ahh yes. for agency's rather than independent publisher. amazon are as unhappy about that as you are though, one sec.

lou02/08/2011 at 20:38

A school night? No can do, the office is runni g light this month and I can't take any time off

Okayyy will have a think about Sunday. Nick's dad is still over then so will have to see if he wants to do anything first I guess.

i may be in london Sunday.. if Jenson is still doing the tri in hyde park.. (if anyone hears anything about if JB is there on sat or sun can you let me know?)

Bassano02/08/2011 at 20:38

Okayyy will have a think about Sunday. Nick's dad is still over then so will have to see if he wants to do anything first I guess.

Does he like Cheeky Vimto? ;)

Mr C02/08/2011 at 20:39

ahh yes. for agency's rather than independent publisher. amazon are as unhappy about that as you are though, one sec.

We expect UK customers to enjoy low prices on the vast majority of titles we sell, and if faced with a small group of higher-priced agency titles, they will then decide for themselves how much they are willing to pay for e-books, and vote with their purchases. - Amazon.co.uk

christine doesn't have that option though. a price is set and amazon appears to automatically adjust as they see fit. if it's cheaper in ibooks, they cut the price. seems to be the same for apps, but i've not looked that deeply into it.

Alison02/08/2011 at 20:41

We expect UK customers to enjoy low prices on the vast majority of titles we sell, and if faced with a small group of higher-priced agency titles, they will then decide for themselves how much they are willing to pay for e-books, and vote with their purchases. - Amazon.co.uk

Hah!

Fair enough, I presumed it was a big publisher thing tbh but it did seem odd how it's some not others.

Mr C02/08/2011 at 20:46

ooh, it would be remiss of me to mention both christine's book and amazon without dropping a plug into the conversation.

hey! here's an ebook: http://www.amazon.co.uk/dp/B005D1TD72/

#pluggingthegigglesway

Mr C02/08/2011 at 20:49

zuckerberg steals another startup and cans their product: http://pushpoppress.com/about/

whither ye "Next Generation of Digital Books".

Lukeh02/08/2011 at 20:50

Has anyone seen this news from EA Sports regarding a 'Season Ticket'?

Available for 2000 Microsoft Points (£17 / $25) for one year, Season Ticket holders can download the full versions of EA Sports titles three days before general release.

Once the game is available at retail, the download will expire. However, all game data and Achievements will carry over into the full game.

So... you pay £17 for the game, download 6GB worth of bandwidth... then it gets deleted the day the game comes out... and you pay £40 RRP for the game again... what on earth? I've never heard of something so odd.

Steven Roy02/08/2011 at 20:51

zuckerberg steals another startup and cans their product: http://pushpoppress.com/about/

He is going to end up owning the world. No wonder Steve is building a spaceship

Mr C02/08/2011 at 20:52

He is going to end up owning the world. No wonder Steve is building a spaceship

:)

Mr C02/08/2011 at 20:52

Once the game is available at retail, the download will expire. However, all game data and Achievements will carry over into the full game.

ouch!

Lukeh02/08/2011 at 20:53

ouch!

Whatever happened to a free demo to get your fanbase to try out the game? So, so greedy. I know it's not compulsory but it just kind of astounds me at such a concept.

Bassano02/08/2011 at 20:54

As less and less people buy physical media, from tomorrow it'll be legal to rip your own CDs and DVDs in the UK http://www.electronista.com/articles/11/08/02/leak.has.uk.government.ready.to.allow.disc.rips/

#MFCTiming

Mr C02/08/2011 at 20:55

Whatever happened to a free demo to get your fanbase to try out the game? So, so greedy. I know it's not compulsory but it just kind of astounds me at such a concept.

if people are tweeting about it three days before you can buy it, i guess they assume you'll pay. the downside to a realtime world.

Mr C02/08/2011 at 20:55

As less and less people buy physical media, from tomorrow it'll be legal to rip your own CDs and DVDs in the UK www.electronista.….allow.disc.rips/

and anyone who has already can throw away their original cd's.

lou02/08/2011 at 20:56

i don't understand this competition.. i just need to post a photo of a nice looking car and could win tickets to the italian gp?

http://www.facebook.com/SikkensCR

Bassano02/08/2011 at 20:56

and anyone who has already can throw away their original cd's.

I have a few hundred under my bed that I need to rip first

[used to have an Our Price addiction]

Mr C02/08/2011 at 20:57

i don't understand this competition.. i just need to post a photo of a nice looking car and could win tickets to the italian gp?

rachel says the competition is illegal anyhow.

https://twitter.com/#!/rachelclarkef1/status/98443257301843968

https://twitter.com/#!/rachelclarkef1/status/98443724761202689

Lukeh02/08/2011 at 20:57

i don't understand this competition.. i just need to post a photo of a nice looking car and could win tickets to the italian gp?

Seems like it, just put a good photo of a car on their wall I guess?

Bassano02/08/2011 at 20:57

i don't understand this competition.. i just need to post a photo of a nice looking car and could win tickets to the italian gp?

Rachel Clarke says the promo breaches FB's competition rules

Lukeh02/08/2011 at 20:57

Rachel Clarke says the promo breaches FB's competition rules

Oh dear oh dear

Steven Roy02/08/2011 at 20:58

i don't understand this competition.. i just need to post a photo of a nice looking car and could win tickets to the italian gp?

That's what it says

How is the great url huntgoing?

Bassano02/08/2011 at 20:58

rachel says the competition is illegal anyhow.

Illegal or not permitted? Unless Mr Z is more powerful than I thought ;)

Mr C02/08/2011 at 20:59

Illegal or not permitted? Unless Mr Z is more powerful than I thought ;)

ah yes. better.

Lukeh02/08/2011 at 20:59

Illegal or not permitted? Unless Mr Z is more powerful than I thought ;)

he ain't no' mr c!

lou02/08/2011 at 20:59

Rachel Clarke says the promo breaches FB's competition rules

oh i see. never mind.

*stomps foot that she can't go to a GP for free this year*

Bassano02/08/2011 at 21:00

he ain't no' mr c!

I think Mr Z should meet Mr T's friend Paaaaaaaiiiiin :)

Bassano02/08/2011 at 21:01

*stomps foot that she can't go to a GP for free this year*

I can't go if I pay! How bad is that?

Mr C02/08/2011 at 21:01

I can't go if I pay! How bad is that?

huh?

Alison02/08/2011 at 21:02

Rachel Clarke says the promo breaches FB's competition rules

To be fair, some of those rules are really stupid. You must not notify winners through facebook? How are you going to get other contact info...

Bassano02/08/2011 at 21:02

huh?

Let's try this. Who's coming to a GP with me this year?

Bassano02/08/2011 at 21:02

To be fair, some of those rules are really stupid. You must not notify winners through facebook? How are you going to get other contact info...

Google Plus?

Lukeh02/08/2011 at 21:02

Let's try this. Who's coming to a GP with me this year?

I wish i could :(

Mr C02/08/2011 at 21:03

Let's try this. Who's coming to a GP with me this year?

ah.

Bassano02/08/2011 at 21:03

Let's try this. Who's coming to a GP with me this year?

I wish i could :(

See :)

lou02/08/2011 at 21:03

How is the great url huntgoing?

it's going okay. am trying to get my head around domains, hosting, and other things.. it's a whole world i hadn't considered. a bit more expensive than i had considered but still okay.

Mr C02/08/2011 at 21:04

See :)

take us with you, virtually.

Alison02/08/2011 at 21:04

Let's try this. Who's coming to a GP with me this year?

You can go to AD with Nick. Or Amy's going to Korea.

lou02/08/2011 at 21:04

Let's try this. Who's coming to a GP with me this year?

if i had the money you know i would. come to germany with us!

Mr C02/08/2011 at 21:05

You can go to AD with Nick. Or Amy's going to Korea.

win!

Bassano02/08/2011 at 21:05

take us with you, virtually.

I cancelled my Bank Holiday leave :(

There's a slim chance I may get to the Singapore paddock next year. My friend in the Wine industry is close to signing a deal with some sponsor

#LongShot

lou02/08/2011 at 21:05

You can go to AD with Nick. Or Amy's going to Korea.

win!

dont forget amy and pamela are off to singapore!

Lukeh02/08/2011 at 21:05

it's going okay. am trying to get my head around domains, hosting, and other things.. it's a whole world i hadn't considered. a bit more expensive than i had considered but still okay.

Absolutely does my head in with hosts going mental with banners saying 'All this for just £2.95 a month!' and it all looks wonderful then you go into it further to find out you have to pay a lump sum of £100 or so to get it. Biggest reason why I haven['t gone onto a proper hosting website yet. :(

Mr C02/08/2011 at 21:06

dont forget amy and pamela are off to singapore!

they are?

lou02/08/2011 at 21:06

There's a slim chance I may get to the Singapore paddock next year. My friend in the Wine industry is close to signing a deal with some sponsor

can they get me into the paddock too?

Alison02/08/2011 at 21:07

lou02/08/2011 at 21:07

they are?

yep. i think so?.. i don't think it was meant to be a secret, Amy's discussed it with me on twitter..

... sorry if i just spoilt it Amy..

Bassano02/08/2011 at 21:07

You can go to AD with Nick. Or Amy's going to Korea.

dont forget amy and pamela are off to singapore!

If only I stood a chance of getting there on Staff Travel on a GP weekend

Lukeh02/08/2011 at 21:07

they are?

of course! don't; forget kororea too :)

Mr C02/08/2011 at 21:07

Lukeh02/08/2011 at 21:07

of course! don't; forget kororea too :)

Stoopid laptop. korea.

Bassano02/08/2011 at 21:07

if i had the money you know i would. come to germany with us!

When the quotes are in, I'll decide

Christine02/08/2011 at 21:07

yep. i think so?.. i don't think it was meant to be a secret, Amy's discussed it with me on twitter..

I saw Twitpicced tickets, so not a good secret if it was one.

Bassano02/08/2011 at 21:08

can they get me into the paddock too?

Can you get to Singapore?

lou02/08/2011 at 21:08

If only I stood a chance of getting there on Staff Travel on a GP weekend

get staff travel to someone near by and buy a direct flight?.. *shrugs*

lou02/08/2011 at 21:09

I saw Twitpicced tickets, so not a good secret if it was one.

oh phew. i had a horrible sinking feeling that i shouldn't have said anything then. Thanks christine :)

Bassano02/08/2011 at 21:09

get staff travel to someone near by and buy a direct flight?.. *shrugs*

SE Asia is generally difficult. AD is, well AD :)

Alison02/08/2011 at 21:09

get staff travel to someone near by and buy a direct flight?.. *shrugs*

Problem with somewhere like Dubai, is that it's such a big hub. Most places around there would expect you to transit through.

lou02/08/2011 at 21:10

Can you get to Singapore?

if you get me into the paddock i will sell a kidney and my left leg to pay for flights etc.. i just wanna get in the paddock.. just for 5 mins :(

Bassano02/08/2011 at 21:10

The 2 long haul tracks I want to do are Montreal and Suzuka. Both will cost buckets of Bernie Dollars

Alison02/08/2011 at 21:10

if you get me into the paddock i will sell a kidney and my left leg to pay for flights etc.. i just wanna get in the paddock.. just for 5 mins :(

Like that dude that sold his kidney for an iphone?

Alison02/08/2011 at 21:11

The 2 long haul tracks I want to do are Montreal and Suzuka. Both will cost buckets of Bernie Dollars

But it's so wet!!

Bassano02/08/2011 at 21:11

But it's so wet!!

I went to Belgium. Wet, I can do

lou02/08/2011 at 21:11

Like that dude that sold his kidney for an iphone?

exactly :)

lou02/08/2011 at 21:12

I went to Belgium. Wet, I can do

wohoo! i wish i could go to Spa this year.. :(

Lukeh02/08/2011 at 21:12

But it's so wet!!

Ohh we had that. Oh yes we did.

Mr C02/08/2011 at 21:13

Like that dude that sold his kidney for an iphone?

did you hear about the couple who sold their kids to play world of warcraft?

lou02/08/2011 at 21:13

did you hear about the couple who sold their kids to play world of warcraft?

yes i did.. but i would never go as far as to sell my kids.. parents maybe ;)

Lukeh02/08/2011 at 21:15

did you hear about the couple who sold their kids to play world of warcraft?

what on earth

I wouldn't even sell my kids for toast. or greggs.

Lukeh02/08/2011 at 21:15

Not that they would compare...

#illbeagoodfather

Christine02/08/2011 at 21:16

I wouldn't even sell my kids for toast. or greggs.

Ooh, Greggs! It's been far too long.

Steven Roy02/08/2011 at 21:16

it's going okay. am trying to get my head around domains, hosting, and other things.. it's a whole world i hadn't considered. a bit more expensive than i had considered but still okay.

Good. When I eventually get this blog MrC says I am getting I will know you can help me

Lukeh02/08/2011 at 21:17

Ooh, Greggs! It's been far too long.

I had one for the first time in 3 weeks last week! Working is tough.

Bassano02/08/2011 at 21:18

I had one for the first time in 3 weeks last week! Working is tough.

Do Greggs need IT support? Staff discount!

Steven Roy02/08/2011 at 21:18

can they get me into the paddock too?

This is Amy. She almost has a season ticket to the paddock. She can probably get you a test

Lukeh02/08/2011 at 21:19

Do Greggs need IT support? Staff discount!

"And can you explain how the sausage roll reacted when you plugged it into the disk drive?"

Mr C02/08/2011 at 21:20

This is Amy. She almost has a season ticket to the paddock. She can probably get you a test

:)

:)

:)

Steven Roy02/08/2011 at 21:20

did you hear about the couple who sold their kids to play world of warcraft?

What?

lou02/08/2011 at 21:20

Good. When I eventually get this blog MrC says I am getting I will know you can help me

i really wouldn't let me be your first port of call. i bought some domain names and then wordpress told me i needed a host and i got all confused again. really shows what my AS ICT taught me. :D

Steven Roy02/08/2011 at 21:20

Ooh, Greggs! It's been far too long.

:)

Mr C02/08/2011 at 21:21

What?

@eligp found it: http://www.destructoid.com/chinese-couple-sell-their-kids-to-pay-for-mmo-habit-206989.phtml

"We don't want to raise them, we just want to sell them for some money"

Lukeh02/08/2011 at 21:22

"We don't want to raise them, we just want to sell them for some money"

http://www.youtube.com/watch?v=35TbGjt-weA

Nuff said.

Lynch02/08/2011 at 21:23

Rachel Clarke says the promo breaches FB's competition rules

Thats just book saving their own A$$ from being liable when said comps. get screwed up when "likes" randomly disappear or something goes wrong with fbook (which is highly likely) ...

Nick02/08/2011 at 21:23

I went to Belgium. Wet, I can do

It rained at Yas on the Friday last year!

Nick02/08/2011 at 21:24

If anyone is into flight tracking I am on ba106

Mr C02/08/2011 at 21:25

If anyone is into flight tracking I am on ba106

what times lift off?

Nick02/08/2011 at 21:25

Saw some epic baggage at the PIA check in

Mr C wouldn't have known which way to look! :D

Bassano02/08/2011 at 21:25

If anyone is into flight tracking I am on ba106

If I was at work I could tell you your registration and all the maintenance messages in the flight deck. I access Boeing's tech pages on my mobile now.

#MFC

Bassano02/08/2011 at 21:26

what times lift off?

Is he on the Shuttle?

Nick02/08/2011 at 21:26

what times lift off?

About half an hour, but nobody has boarded yet so it might be a bit after that

Mr C02/08/2011 at 21:27

Is he on the Shuttle?

in my head, yes.

Nick02/08/2011 at 21:27

If I was at work I could tell you your registration and all the maintenance messages in the flight deck. I access Boeing's tech pages on my mobile now.

I probably don't want to know!

Mr C02/08/2011 at 21:27

If I was at work I could tell you your registration and all the maintenance messages in the flight deck. I access Boeing's tech pages on my mobile now.

you left your mobile at work then?

Bassano02/08/2011 at 21:27

in my head, yes.

We need NASA.TV for SidepodFlights

Steven Roy02/08/2011 at 21:27

Is he on the Shuttle?

in my head, yes.

:D

Bassano02/08/2011 at 21:28

you left your mobile at work then?

No, that'd just give me access to which aircraft is doing which sector

Steven Roy02/08/2011 at 21:28

If I was at work I could tell you your registration and all the maintenance messages in the flight deck. I access Boeing's tech pages on my mobile now.

I probably don't want to know!

That is an opportunity missed. You could just have made up something

Mr C02/08/2011 at 21:28

No, that'd just give me access to which aircraft is doing which sector

ah-ha

Nick02/08/2011 at 21:28

in my head, yes.

Hope we don't quite get to zero-g, but I do like a little turbulence

Steven Roy02/08/2011 at 21:29

We need NASA.TV for SidepodFlights

I always said SPC would do NASA TV better than NASA TV

Nick02/08/2011 at 21:29

No, that'd just give me access to which aircraft is doing which sector

If I see a numberplate I will let you know, it's usually a 777

Bassano02/08/2011 at 21:30

you left your mobile at work then?

Phoning the night shift to ask them to check cos the Internet F1 people want to see Nick's aircraft's messages would be kind of a long story. I'd probably have to start with window blind installation and Challenge Bassano

Steven Roy02/08/2011 at 21:30

Hope we don't quite get to zero-g, but I do like a little turbulence

Me too. I feel like I am getting value for money if I get thrown around a bit. A smooth flight just makes me think it is a giant con and they are projecting scenery outside and we are really going nowhere.

Bassano02/08/2011 at 21:31

If I see a numberplate I will let you know, it's usually a 777

Numberplate? :)

Nick02/08/2011 at 21:31

Numberplate? :)

Don't they have them on the inside of the door frame?

Steven Roy02/08/2011 at 21:32

Phoning the night shift to ask them to check cos the Internet F1 people want to see Nick's aircraft's messages would be kind of a long story. I'd probably have to start with window blind installation and Challenge Bassano

That could be a long call if they had to watch the video and read the comments from those that watched it.

I guess we should all be grateful Alex didn't phone you to deliver the baby on a live strea

Nick02/08/2011 at 21:32

Me too. I feel like I am getting value for money if I get thrown around a bit. A smooth flight just makes me think it is a giant con and they are projecting scenery outside and we are really going nowhere.

I find it easier to sleep with turbulence :)

Steven Roy02/08/2011 at 21:33

Don't they have them on the inside of the door frame?

On the back in front of the tail it will say G-XXXX. We need to know what the Xs are

Alison02/08/2011 at 21:33

Saw some epic baggage at the PIA check in

I will NEVER understand why they don't just have it shipped! That's cheap. Excess baggage must nearly bankrupt them.....

Bassano02/08/2011 at 21:33

Don't they have them on the inside of the door frame?

Well, yes they do actually. That doesn't have the registration though, just the legal owner [bank] and the Operator [BA]

I think....

Under the wing, on the Nose Landing Gear doors, on the Fin and the rear of the Fuselage. Big frickin' letters

Nick02/08/2011 at 21:34

On the back in front of the tail it will say G-XXXX. We need to know what the Xs are

In queensland they can't spell beer, so they just put XXXX on the can :P

Nick02/08/2011 at 21:35

Under the wing, on the Nose Landing Gear doors, on the Fin and the rear of the Fuselage. Big frickin' letters

Will have a look from the aerobridge

Bassano02/08/2011 at 21:35

On the back in front of the tail it will say G-XXXX. We need to know what the Xs are

G-ZZZ.

G-YMM.

G-VII.

or G-STB.

Bassano02/08/2011 at 21:36

Will have a look from the aerobridge

Jetty

Nick02/08/2011 at 21:36

Everyone is huddling next to the door, will they get there first?

Bassano02/08/2011 at 21:37

Will have a look from the aerobridge

If you can see the side of the engines, there'll be a big Rolls Royce or GE decal

Alison02/08/2011 at 21:37

Everyone is huddling next to the door, will they get there first?

Eurgh! Why why why.... As if it's going without you....

Steven Roy02/08/2011 at 21:37

Will have a look from the aerobridge

Jetty

I always thought it was an airbridge

Bassano02/08/2011 at 21:38

I always thought it was an airbridge

Dunno, maybe that's a US term

Nick02/08/2011 at 21:38

Someone brought mcdonalds to take on the plane with them!

Bassano02/08/2011 at 21:38

Eurgh! Why why why.... As if it's going without you....

It's a race for overhead bin space

Alison02/08/2011 at 21:40

It's a race for overhead bin space

Who cares...? Prefer to jam my things under the seat in front. You have 8 hours to sit on the plane. Why on earth would you fight to get on....

Bassano02/08/2011 at 21:41

Who cares...? Prefer to jam my things under the seat in front.

You bag clearly isn't big enough if you can fit it under there

Alison02/08/2011 at 21:41

You bag clearly isn't big enough if you can fit it under there

I check a suitcase....

Nick02/08/2011 at 21:42

It's a race for overhead bin space

I think you should only be allowed a bag you are able to hold for 5 mins..,

If not, then it's too big!

Steven Roy02/08/2011 at 21:42

I think you should only be allowed a bag you are able to hold for 5 mins..,

Nick02/08/2011 at 21:43

Steven Roy02/08/2011 at 21:43

I think you should only be allowed a bag you are able to hold for 5 mins..,

My brother spent a couple of years in Zambia and on one flight someone was most upset when he was told that a fridge freezer did not qualify as hand luggage

Alison02/08/2011 at 21:44

I think you should only be allowed a bag you are able to hold for 5 mins..,

How weak are you?? I've snuck "oversized" hand luggage onto budget flights before. Easily liftable.

Bassano02/08/2011 at 21:44

Rolls engine

It's a Mike Mike then

Nick02/08/2011 at 21:44

My brother spent a couple of years in Zambia and on one flight someone was most upset when he was told that a fridge freezer did not qualify as hand luggage

:D

Lukeh02/08/2011 at 21:48

Wait, just noticed on posterous... was mr c and christine in cardiff this week?!

Mr C02/08/2011 at 21:48

Wait, just noticed on posterous... was mr c and christine in cardiff this week?!

indeed.

Lukeh02/08/2011 at 21:49

indeed.

Awesome! Well, on the one hand that's awesome and on the other I'm worried I managed to notice cardiff behind a hand and a beer

Mr C02/08/2011 at 21:50

Awesome! Well, on the one hand that's awesome and on the other I'm worried I managed to notice cardiff behind a hand and a beer

hehe. i needed a beer.

Lukeh02/08/2011 at 21:50

Awesome! Well, on the one hand that's awesome and on the other I'm worried I managed to notice cardiff behind a hand and a beer

...the subtitle says 'goodbye cardiff'

Maybe that would've been an easier clue

Christine02/08/2011 at 21:50

hehe. i needed a beer.

And apparently the fridge was too easy ;)

Mr C02/08/2011 at 21:51

And apparently the fridge was too easy ;)

are there naked men in our fridge? no.

Nick02/08/2011 at 21:51

Bassano02/08/2011 at 21:51

And apparently the fridge was too easy ;)

But that's in the kitchen, it's dangerous in there. Things in cellophane

Alison02/08/2011 at 21:52

are there naked men in our fridge? no.

I don't even want to know!

Lukeh02/08/2011 at 21:52

But that's in the kitchen, it's dangerous in there. Things in cellophane

And stuff being left on top of fridges too.

Nick02/08/2011 at 21:52

It's called

Love is in the air

Bassano02/08/2011 at 21:52

747

Ah. I'll give you a read out in the morning :)

Mr C02/08/2011 at 21:53

It's called

Love is in the air

that's an odd name for a plane.

Bassano02/08/2011 at 21:53

Love is in the air

Is it really? Oh, I think we did that for the Royal Wedding

Alison02/08/2011 at 21:54

Is it really? Oh, I think we did that for the Royal Wedding

Cripes! That makes me feel a bit ill.

Nick02/08/2011 at 22:01

Mr C02/08/2011 at 22:02

Is it really? Oh, I think we did that for the Royal Wedding

hardly memphis belle is it?

Alison02/08/2011 at 22:02

Bassano02/08/2011 at 22:02

Bassano02/08/2011 at 22:03

hardly memphis belle is it?

It probably won't get shot at though

Mr C02/08/2011 at 22:03

It probably won't get shot at though

:)

lou02/08/2011 at 22:06

are there naked men in our fridge? no.

what kinda of place did lukeh take you?!

Steven Roy02/08/2011 at 22:07

#sidepodspace

There is oxygen gas in space. That along with the water that was reported a couple of weeks ago means that all sorts of chemicals that are common on Earth probably exist in space

http://www.nasa.gov/mission_pages/herschel/news/herschel20110801.html

NASA are working on supersonic planes

http://www.nasa.gov/multimedia/imagegallery/iotd.html

I want to fly in one of those

Lukeh02/08/2011 at 22:07

Lukeh02/08/2011 at 22:08

are there naked men in our fridge? no.

what kinda of place did lukeh take you?!

I dunno, that does sound like Cardiff to me :)

Christine02/08/2011 at 22:08

I dunno, that does sound like Cardiff to me :)

:)

lou02/08/2011 at 22:09

I dunno, that does sound like Cardiff to me :)

:)

Lukeh02/08/2011 at 22:10

Looking back I realise it was saturday. I would've come and said hello if I realised.

Well, tried and say hello.

Bassano02/08/2011 at 22:11

Bassano02/08/2011 at 22:11

NASA are working on supersonic planes

They have been since the mid 90's

Lukeh02/08/2011 at 22:12

Gonna head off anyways, need a bit of a lie down. So, so humid this evening. You'd think it's actually summer or something.

Night guys.

Bassano02/08/2011 at 22:12

Mr C02/08/2011 at 22:13

Looking back I realise it was saturday. I would've come and said hello if I realised.

Well, tried and say hello.

had no idea you were there. we seemed to be everywhere, amazed we didn't bump into you.

Steven Roy02/08/2011 at 22:14

They have been since the mid 90's

I thought it was something new and exciting.

How long does it take them to produce a plane? If they had an F1 team it would be worse than Toyota

Steven Roy02/08/2011 at 22:14

Gonna head off anyways, need a bit of a lie down. So, so humid this evening. You'd think it's actually summer or something.

Night Lukeh

lou02/08/2011 at 22:14

Bassano02/08/2011 at 22:17

#sidepodspace

NASA are working on supersonic planes

Looks like a Concorde and a DC10 fell from the ugly tree into big Brawn jar of highlighter pens

Bassano02/08/2011 at 22:19

How long does it take them to produce a plane? If they had an F1 team it would be worse than Toyota

We already discovered Toyota have more money than Bernie, NASA have a piggy bank that won't pay for a new torque wrench

Bassano02/08/2011 at 22:21

Also, I think tri-engined aircraft suffer from a helluva lot of vibration from the #2 position. Doubt that'd go down well at hypersonic speeds

Pretty pictures, nothing more

Steven Roy02/08/2011 at 22:22

We already discovered Toyota have more money than Bernie, NASA have a piggy bank that won't pay for a new torque wrench

NASA spend £20 billion a year regardless of some of the stupid figures some people quote

Steven Roy02/08/2011 at 22:23

Also, I think tri-engined aircraft suffer from a helluva lot of vibration from the #2 position. Doubt that'd go down well at hypersonic speeds

It does seem and odd idea to stick an engine up there

Bassano02/08/2011 at 22:26

NASA spend £20 billion a year regardless of some of the stupid figures some people quote

I imagine the stand down costs may be significant for the shuttle fleet but what are they gonna spend it on after that? Improving NASA.TV maybe

Steven Roy02/08/2011 at 22:31

I imagine the stand down costs may be significant for the shuttle fleet but what are they gonna spend it on after that? Improving NASA.TV maybe

They are dishing out grants to private space companies and they have lots of robotic missions coming up

Kai02/08/2011 at 22:39

Good evening.

I was scheduled for jury duty tomorrow but I just called, as you have to the night before, and I don't have to go! My name is on the list of people who don't have to show up! This has never happened before.

I'm happy.

Steven Roy02/08/2011 at 22:45

I was scheduled for jury duty tomorrow but I just called, as you have to the night before, and I don't have to go! My name is on the list of people who don't have to show up! This has never happened before.

I have never been picked for jury duty and I don't particularly want to do it.

lou02/08/2011 at 22:46

I have never been picked for jury duty and I don't particularly want to do it.

i really want to be picked for jury duty at one point. two of my friends have already done it. We studied the psychology of jurys at alevel and i found it so interesting!

Kai02/08/2011 at 22:48

I have never been picked for jury duty and I don't particularly want to do it.

Do you mean you've never had to go at all, even for the day where you sit around, they don't pick you, then you go home?

Kai02/08/2011 at 22:49

i really want to be picked for jury duty at one point. two of my friends have already done it. We studied the psychology of jurys at alevel and i found it so interesting!

It is interesting to hear about the case and stuff. And I love psychology, so I do like that stuff. I just don't want to be stuck in a room with no windows for days on end.

Steven Roy02/08/2011 at 22:50

i really want to be picked for jury duty at one point. two of my friends have already done it. We studied the psychology of jurys at alevel and i found it so interesting!

I have an aunt who did it and she had the easiest case ever. There were 3 people accused of getting drunk and beating someone up after an argument. The first one under questioning said they got there at 8:30pm and only had a couple of drinks before the trouble started. The second said they got there at 7pm and had 5 or 6 drinks and the third said they had been there for hours and were very drunk.

Steven Roy02/08/2011 at 22:50

Do you mean you've never had to go at all, even for the day where you sit around, they don't pick you, then you go home?

Never.

lou02/08/2011 at 22:51

It is interesting to hear about the case and stuff. And I love psychology, so I do like that stuff. I just don't want to be stuck in a room with no windows for days on end.

ohhh that isn't great at all. i can imagine it wouldn't be that fun at all. but in my wild imagination it's amazing to site and watch how the jury make decisions and how easy it is to be swayed by different witnesses etc.. :) i miss doing psychology.

Steven Roy02/08/2011 at 22:53

Do you mean you've never had to go at all, even for the day where you sit around, they don't pick you, then you go home?

British juries are a bit different to American juries. THe defence and the prosecution don't get to pick jurors they like and get rid of those they don't. If they need 12 people for a jury they probably only invite 15-18 people to cover those who don't turn up and the occasional one where there is a very good reason why they should not be a juror in a particular case

Kai02/08/2011 at 22:55

Never.

Wow. I've had to go several times.

Steven Roy02/08/2011 at 22:56

Wow. I've had to go several times.

Maybe because you are a teacher?

Kai02/08/2011 at 22:58

British juries are a bit different to American juries. THe defence and the prosecution don't get to pick jurors they like and get rid of those they don't. If they need 12 people for a jury they probably only invite 15-18 people to cover those who don't turn up and the occasional one where there is a very good reason why they should not be a juror in a particular case

I wondered what the difference was between our countries. We have a lot of people who are called in, maybe 30-40, and then some are excused, others have to go in and be questioned by attorneys in the case. That's what happened to me last time. It was intimidating to be called in to sit where people testify and be questioned by a bunch of lawyers. I was afraid I'd answer something wrong....about my own opinion! :)

Kai02/08/2011 at 22:59

Maybe because you are a teacher?

Maybe. Most people I know (many are teachers, of course) have to go every few years.

lou02/08/2011 at 23:00

right you lovely people, my headache has got the best of me. i'm off to get some sleep. nighty night! x

Steven Roy02/08/2011 at 23:00

I wondered what the difference was between our countries. We have a lot of people who are called in, maybe 30-40, and then some are excused, others have to go in and be questioned by attorneys in the case. That's what happened to me last time. It was intimidating to be called in to sit where people testify and be questioned by a bunch of lawyers. I was afraid I'd answer something wrong....about my own opinion! :)

:D

Steven Roy02/08/2011 at 23:00

right you lovely people, my headache has got the best of me. i'm off to get some sleep. nighty night! x

Night Lou

Kai02/08/2011 at 23:00

right you lovely people, my headache has got the best of me. i'm off to get some sleep. nighty night! x

Night Lou, I"ll answer your email soon. I just got home. :)

lou02/08/2011 at 23:01

Night Lou, I"ll answer your email soon. I just got home. :)

hehe no prob! take you're time, gonna probably sleep for around 20 hours cause of this silly headache so i'm in no rush :D

Amy02/08/2011 at 23:50

... sorry if i just spoilt it Amy..

none of my travel plans are ever secret :D

Amy03/08/2011 at 01:19

oh i see. never mind.

*stomps foot that she can't go to a GP for free this year*

I'd still enter it, it's not like FB actually police the millions of competitions that must breach their rules. The one I won is in breach of those rules, I'm still going to Korea :D